Pacific Play Tents
Play Tent Facts about Manufacturing

Pacifc Play Tents manufactures play tents, play tunnels, play parachutes, bed tents and more. Each season as we create our new line, they try and go back to that time, where our imagination is what dictated the adventure of the day and creativity was the basis for our fun. Each and every new play tent, play tunnel, play parachute, bed tent, etc in our collection is designed to take our children back to a time less stressed, more creative and interactive with each other as opposed to an impersonal electronic device providing our fun. They design each play tent, play tunnel and play house to be large enough for more than one child to play in, so children learn how to interact with each other, in person, as opposed to some computer screen. Technology is wonderful and it is what has catapulted us to places that as kids we just dreamed of.

Pacific Play Tents has continually upgraded their technology to insure the best in service and competitive pricing. They welcome your input, ideas and stories. Take a journey through the land of make believe, connect tents & tunnels together making the never-ending city (each tent & tunnel is inter connective). Share our vision and bring the priceless smiles and far away places to the children in your life. Pacific Play Tents "where only your imagination has limits"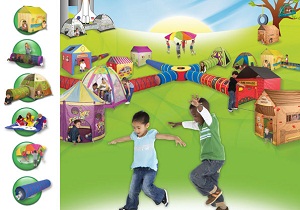 Company Profile
Pacific Play Tents is a privately owned company dedicated to providing children with creative, high quality and imaginative products for indoor and outdoor use. As parents of small children, we have tried to design products that stimulate our children's imagination and teach them how to interact with each other. Unlike video or computer games, playing "tent" allows us to use our imagination and be anything we want - anywhere we want.
They have designed all of their tents and tunnels to be interchangeable. Buy two or three different tents and connect them together through a maze of tunnels. You can create your very own city of tents and secret hiding places, winding through your very own space.
Each and every item they make has been safety tested by an independent testing laboratory and has also undergone the most stringent of all tests, KIDS! With the cooperation of a major pre-school and catalog company, they provide these items to the school to gauge the children's reactions. The smiles and laughs are real kids having real fun. Either independently or with a group of friends, our tents and tunnels allow children to enjoy their very "own" special place while developing their motor and socialization skills.
In addition to fun and excerise, they hope to teach children about "camping", our environment and the great outdoors. By educating our children at an early age and exposing them to the adventure of a camp out, the wonderment of nature will be forever instilled in their hearts. All of their tents have a waterproof polyethylene floor and can be used for a fun backyard camp out on a warm summer night.